2nd Annual Battle Talent Show
Battle students show off their musical expression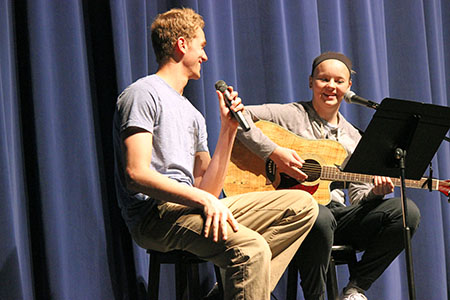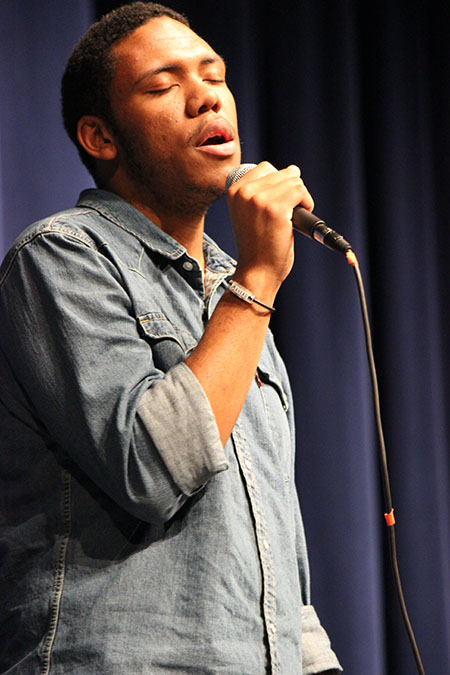 The 2015 Battle Talent show was the place to be on April 16, 2015. The tickets were $2 at the door. Battle's Band and vocal arts was able to pull in supporting parents and friends to set the perfect tone for our unique talent show. Raising over $350 dollars for the music and art programs, Battle's talent show didn't stop there; the Battle Spartan performers actively shined on stage with their unique drum performances and solo acts involving dancing and singing talents that brought mad funk to the show for our viewers. It was a night with band and vocal flare.
The start of the show began with the host Cameron Hawkins, as he introduced the performers, he also enlightened the crowd with his stand-up comedy such as his angry Saint Bernard and the awkward life lessons he had to offer, and what the crowd should never do because of "his" uncomfortable life experiences. Julian Richardson, a senior at Battle, performed "Best Friends, Right?" by Amy Winehouse. This was his first big performance in front of a crowd of people. His experience, he explains was really nerve racking. Julian says, "Before the show I felt calm and relaxed but then I was really nervous, but I dealt with it by smiling and closing my eyes and jamming in my head on stage." The performance was one to remember like many others such as the percussion performance performed by Brant Goodwin and his team.
Bringing the noise to the show, Brant and his team used a mixture of bells and drums and created what most people call, "music to my ears." It was an unexpected tune that had the crowd on the edge of their seats and their heads bobbing to the beat, and the crowed clapped as if they were begging for an encore performance. It was a great climax for our 2015 talent show. Rapping up, Hannah Sanders and Camera Hawkins, the first paired act of the night ended the talent show with an amazing and emotional performance. Despite a tuning problem, Cameron kept the show entertaining with more of his comedy. As the show went on, their voices blended like two peas in a pod, as the proudly projected, their voices touched everyone from stage. "You may have heard that before the show, I felt like I was going to puke. Fortunately I didn't, I was fine but then right when I was about to go on, I got really nervous," stated Hannah after the show. Cameron, her partner said, "I was fine but I'm always nervous until I get on and them I'm good to go and I'm just having fun."
Really it's all about having fun, even though most of the performers were nervous or had a lot of emotions before or during their performance. They all enjoy the experience of accomplishing one thing that most people can't handle and it's performing and doing something you love while doing it, and that's what our Battle students that participated expressed that night.