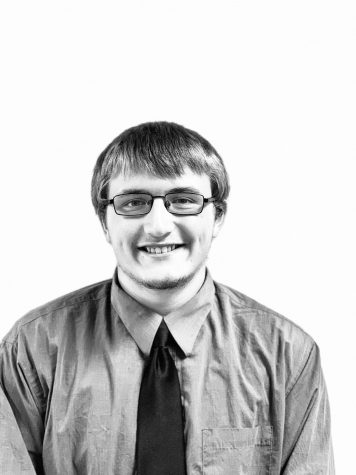 Colten Stone is a senior at Battle High School. Three years ago as a sophomore, he joined the Spartan Spearhead staff as a reporter and would go on to be the sports editor his junior year, and this year as a senior, would become the Spearhead's managing editor.
He not only a member of the Spearhead, but this year has joined The Shield yearbook staff. He has been a member of the school's football team for the last four years, and three years on the track team throwing Shot Put, Discus, and Javelin. He is also a member of the National Honor Society and A+ Program.
He will be looking to attend Missouri State University in the fall of 2020 to pursue a degree in Special Education.
Colten Stone, Managing Editor
Feb 21, 2020

Required/Not Required

(Story)

Dec 10, 2019

Battle falls short in Norm Stewart Classic

(Media)

Dec 10, 2019

TEDx Battle returns after a two years absence

(Story)

Nov 25, 2019
Oct 25, 2019

M(ag)nificent day

(Story)

Oct 25, 2019

Jordan Mayes Big Night

(Story)

Sep 26, 2019

Battle vs Jackson Week 5 Preview

(Story)

Sep 21, 2019

Battle vs Harrisonville Week 4 Preview

(Story)

Sep 12, 2019

Battle vs Rock Bridge Week 3 Preview

(Story)

Sep 11, 2019

Lady Spartans go to War On The Battlefield

(Story/Media)

Sep 06, 2019

Battle vs Smith Cotton Week 2 Preview

(Story)

Aug 29, 2019

Battle Vs St Louis University High Football Preview

(Story)

Dec 14, 2018

Norm Stewart Classic Spartans on fire vs the Dragons!!

(Story)

Nov 19, 2018

Battle vs Fort Osage State Semifinal Preview!

(Story)

Nov 16, 2018

Battle vs Fort Zumwalt North State Quarterfinal Preview!

(Story)

Nov 16, 2018

Battle vs Timberland District Championship Preview!

(Story)

Nov 02, 2018

Battle vs Holt District Semifinal Preview

(Story)

Oct 15, 2018

Battle vs Hannibal Week 9 Preview

(Story)

Oct 11, 2018

Battle vs Jefferson City Week 8 Preview

(Story)

Oct 01, 2018

Battle vs Rockhurst Week 7 Preview

(Story)

Sep 27, 2018

Battle vs Hickman Week 6 Preview

(Story)

Sep 27, 2018

Kewpies win "The Battle" of CPS

(Story)

Sep 18, 2018

Battle vs Jackson Week 5 Preview

(Story)

Sep 14, 2018

Battle vs Harrisonville Week 4 Preview

(Story)

Sep 14, 2018

Battle vs Rock Bridge Week 3 Preview

(Story)

Sep 12, 2018

Battle vs Smith-Cotton Week 2 Preview

(Story)

Sep 12, 2018

Battle vs SLUH Week 1 Preview

(Story)

Jan 19, 2018

Spartans Return from Winter Break

(Story)

Dec 04, 2017

The current state of the NFL season

(Story)

Nov 08, 2017

New Kids on the Block: 8th Graders Tour Building and Career Center Classes

(Story)

Oct 27, 2017

Preseason Preparations

(Story)

Oct 02, 2017

A Useful Intervention

(Story)

Oct 02, 2017

Destiny Dollinger Profile

(Story)