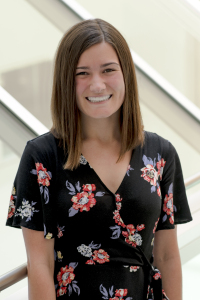 Kaitlyn Bailey is a junior at Battle High School. For the last two years, she has been a staff member for her schools, yearbook, newspaper and magazine. She is the junior editor-in-chief, as well as a reporter for CPS360, her district's broadcast TV program.
In addition to journalism, she takes multiple honors and AP classes. She is in multiple clubs and sports including her high school tennis team and is a member of National Honor Society. She hopes to attend MU in the future and continue studying journalism, specifically print.
 You can read more of her writings on her website.
Kaitlyn Bailey, Editor
Sep 18, 2019

Darkroom Records Hosts First Ever 'Busk 4 Blues' Competition

(Story)

Sep 10, 2019

Annual Activities Fair to Happen Wednesday

(Story)

May 02, 2019

Vaulters Excel to New Heights

(Story)

Apr 26, 2019

Select Students Receive Outstanding Student Award

(Story)

Dec 04, 2018

Students Donate to Boys and Girls Club

(Story)

Nov 12, 2018

How Midterm Elections Could Impact The Youth

(Story)

Oct 31, 2018

Students Gather for the Annual Zombie Defense League

(Story)

Oct 29, 2018

Fake News vs. Real News: How to Tell the Difference

(Story)

Oct 17, 2018

Students Attend Annual College Fair

(Story)

Sep 27, 2018
Sep 27, 2018
Sep 27, 2018