Nevaeh Lennox Profile Story
Nevaeh Lenox Profile Story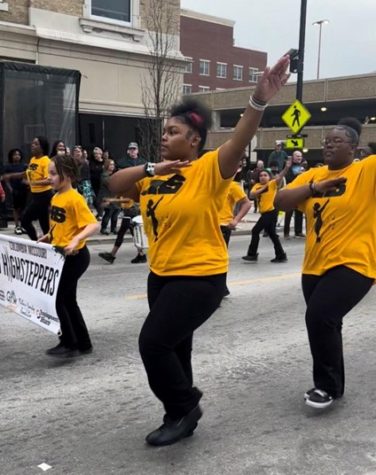 Nevaeh Lennox, an eighth grader,  is an amazing young stepper who started the Highstepper team in the third grade. Over the years she has progressed and is really dedicated as a senior stepper.
The Mid-Missouri Highsteppers is a contemporary precision dance and drill troupe, kids ages from 5 to 18  perform dance steps, military maneuvers, marching steps and choreographed street dances. Mid Missouri highsteppers also known as "Drill Team",  is an extracurricular performing arts organization, drill team has been around for years, since 1979. Generations of families attended this fun establishment. The owner/ creator Rolando Barry also known as "Mr. Ro" and his right-hand man "T-man" Tyrone Raybon, T-mans solid discipline and sharp eye but also very caring to the drummer and steppers on the team, he helped expand the highsteppers program.
   "My mom found the step group on Facebook and said I should join the team, I've been on the team since the third grade" Nevaeh said 
  There multiple step groups around Missouri
" What I   like most about drill team is learning new things and the precision steps"
  When Drill team started back up after three years all new steppers/drummers and veterans were welcome to come back and join the team. Everyone signs their name on a paper to mark that they are there and then say parts of the creed so they can get used to knowing what they are saying and how you should stand by it when entering the building, Drill team has their unique way of Stretching and warming up which is important so it would be a low risk of any injuries. Steppers and drummers use the creed for outside references. The creed is very important to the step group because Mr. Ro and T-man want the kids to know the significance of the creed and live by it. Drill team has their unique way of Stretching and warming up which is important so it would be a low risk of any injuries.
"My first impression of drill team was it being hard but easy to learn because it's more of precision moves in the dance steps" Nevaeh said
In drill team they teach you how to be dedicated, responsible and how to persevere in life. Nevaeh enjoys being on the step team so she can help the Jr. steppers and teach them the steps they don't know or are confused on. Kanece hickem who is also on the step team and is a senior stepper. 
"Kanece is a good helper when it comes to teaching the Jr. Steppers, when they don't understand a step she will go and help because we all are one and we all need to look the same, when you've been on the team for a long time the steps will get easier and become really fun when we do elimination at the end of practice" Nevaeh said 
  Elimination is a game like Simon says, Mr. Ro calls a calling of a move and if you do the move right then you stay in, if you do the move wrong you get out, the last person stands win. You have to be focused when playing this mind game.
"I like elimination because it's fun and challenging. You have to listen to what the command is. Sometimes the calls are really fast but you have to try to keep up and concentrate." Kanece said