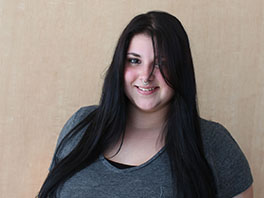 Morgan is like an Autobot, there's a lot more to her than what you see. She is a passionate writer,
a master of impersonation, and an impressive junior here at Battle High. She spends her days
writing poetry and short stories, accompanied by her dog Rosie. Classic rock and "anything 50s
and 60s," as she said, can be found pouring out of her headphones, especially her favorite band
The Temptations. Her scholastic interests revolve around writing and theater; in the future she
wishes to become a microbiologist, doing whatever a microbiologist does. Like her taste in
music and love of pen and paper suggests, Morgan lives a little in the past; preferring the simpler
time before #whatsawrittenessay. Morgan is a big personality, with loads of charm and charisma.
If you see her in the hall, don't hesitate to give a big "Whaaaattzzzzzz uuuuupp," to her.
Morgan Evanoff, Writer & Photographer
Apr 29, 2016
Apr 29, 2015

Cracking the Code: Battle's Dress Code

(Story)

Sep 30, 2014

Student of the Month: Ben Peng

(Story)