CNA Certification: Head-start for Future Nurses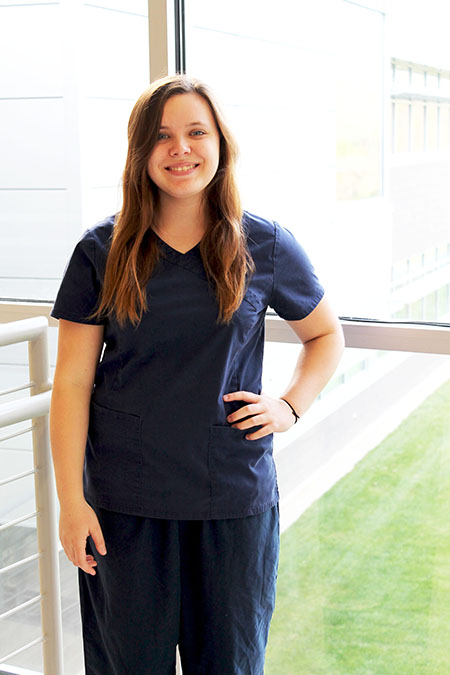 On April 14, 53 Professions in Healthcare students took one of the most important tests in their life so far: the CNA test (Certified Nursing Assistant). A CNA is a healthcare professional that provides basic healthcare services to patients and nursing home facility residents. During the class, students learned multiple hands-on skills from brushing a resident's teeth to giving a resident a shower. The class taught basic nursing skills, communications skills, and a lot of medical terminology. This class allows a future nurse to know for sure if he or she wants to go into a nursing career or not.
Having a CNA certification can benefit a person in multiple ways especially taking the class when you are in high school at the Columbia Area Career Center (CACC). Taking the course now saves students $1000 to $5000 in college fees. Debra Canine, one of the teachers of the Professions in Healthcare class, says, "You will use everything you learn, even if you don't go into the medical field. It's kind of like a course of study for all owners of bodies. You need to know this stuff so you can take care of yourself and your family." In the class, students learn how to handle situations such as a resident falling, how to talk to a resident that cannot hear, how to feed someone that had difficulty eating and so many things that you thought you would not be able to do. Professions in Healthcare student Jolisa White states that she knew she wanted to be a nurse at the age of 11 because of how she had to help out with her father and knows that she will have to use the things she learned in this class to help her future family and friends. Having a CNA can get you a job at multiple places: in a nursing home facility, at a hospital, or as an at-home nursing assistant. This class is a duel credit class and where students can get up to five college credits. Students also learned how to use good body mechanics, for example transferring a resident in a nursing home from their bed to their chair. This skill is important for all students to learn. It would be easy to hurt your back while moving a resident, so this class teaches students how to use their body mechanics safely. Even people outside the medical field should know good body mechanics to protect their body while doing heavy lifting.
The CNA test consist of multiple steps and it takes the four CACC Professions in Healthcare classes about a week for all students to take the exam. Mrs. Duemmel, a teacher of the course for the past seven years says, "We are a pretty successful program, most of our students will pass the CNA and will obtain their CNA. In my seven years I had about two students that didn't qualify." Before taking the CNA test you had to have completed 75 in class hours and 100 clinical hours, or hours in a nursing home, and also pass three tests with at least an 80%. With these requirements met, students can take the CNA test up to three times. After students have passed the written test with at least an 80% or higher, there is a hands-on portion of the test (the CNA competencies). This portion includes feeding, showering a resident, transferring someone to another place (chair-to-bed), and safety measurements (gloving and washing your hands). After completing the competencies you are now officially a CNA, all you have to wait for is the certificate!
Does this sound like a career path you are interested in? Get to know Mrs. Monica Duemmel and Ms. Debra Canine. Mrs. Duemmel has been teaching for almost eight years, with experience teaching Introduction in Healthcare, Introduction in Healthcare Honors and Professions in Healthcare. Mrs. Duemmel is working on her second degree: she has a Bachelor of Science in Nursing and will complete her Masters of CTE Administration and Leadership in May. When asked why she got into nursing she said, "The desire to help people and make a difference, I was little when I wanted to go into nursing. There was medical show I would watch and since then [I've] always wanted to be a nurse." Mrs. Duemmel didn't always want to be a nurse, for a little while in high school she deviated and considered a career in laboratory sciences, but ended up going back to nursing when she went to college. What made her want to teach is because she "enjoys giving my knowledge to other people." Mrs. Canine is known for her lipstick, but teaches with 12 years of experience. Mrs. Canine has taught English, Social Studies, Special Education, and Professions in Healthcare. She has a Bachelor of Science in Education and an Associates in Nursing (RN). When asked why she wanted to teach she said, "I like working with people that want to learn and because good teachers often end up learning more than they teach."
On May 12th at 6:30P.M. at Jesse Auditorium there is a graduation for everyone that passed the CNA. This is different from a traditional graduation; it's called the pinning ceremony. There graduates will receive a pin, CNA certificate, a lit candle, and recite the nursing pledge. Students will accept the honor of their CNA certification by saying the Florence Nightingale Pledge, one line is: "With loyalty will I endeavor to aid the physician in his work, and devote myself to the welfare of those committed to my care." With these words, the students will take up their new positions as nurses after a year of hard work.