Behind the Bench: Trainer David Ford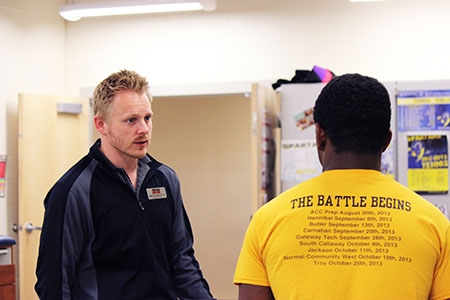 When you're in high school, most people think about the life of sports in regards to the athletes, but no one really thinks about the importance of other people participating behind the bench. David Ford, Battle's resident trainer for the past two years has been our school's Batman! He's the man with all the advice on injuries and one of our sports teams' role models. With the confidence he has in his education and the support he gives to all athletes, David is a Battle star.
If you have ever had the chance to talk to David Ford and gain advice, you would know that he's like the parent you never had. David's hard work during practices shows the importance of making sure everyone is as safe and healthy as possible. David's reliable information on injuries helps athletes understand their symptoms and prepares them for rehabilitation to get them back in the sports they enjoy and love. As a trainer, depending on the season, David sees about 15-30 students a day. David says, "It's fun to me to see the growth of my students and athletes in sports in the past two years that I have been here. I like knowing them on a more personal level."
What many people don't know about our school trainer is that he is one of many that works with over 300 students. As one person, you would think that this would be a lot of pressure, but with David it's just another important thing in his every day schedule that needs to be done. "At the end of the day, I'm here for the kids," David says. The coaches are understanding about his job and support his decisions but, "A coach sometimes gets too fired up in a game to win. I don't care if we win or lose, I think not being tied up emotionally helps for the kid's sake," said David. David's knowledge with his profession is enough to keep the pressure off his shoulders.
David Ford is man with lots of confidence; he trusts himself well enough to know what he is doing and that's what makes him a star. "As far as having difficulties, I don't feel that I have any but I'm always trying to learn new things and reading about different technologies to better myself," said David. David's experiences with the Battle student athletes has been very special. "Getting the chance to be a part of the Battle Football team and going to State, and the year before that, girls' basketball wining districts was a fun experience because it was a chance to see students grow and form themselves into something they wanted to be," said David.
Making work a priority and using motivation to get athletes to stay focused was David's successful way to show the importance of care in the sports teams to stay healthy for the fields and courts.