Healthier Meals in the BHS Cafeteria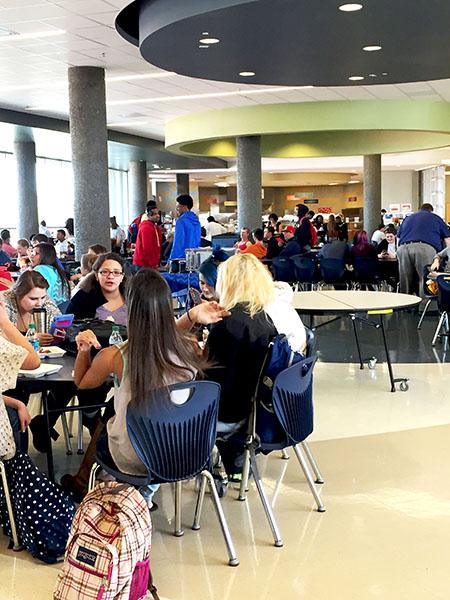 High school students have many different things to do in life: from going to school, playing a sport, going to work, having a social life, and maintaining good grades. It's rough. But do the school lunches provide enough energy and satisfaction for students to do all of these activities?
Many students have noticed the tweaks in the school's lunch system and aren't happy with them. Junior Hana Canhasi says that she doesn't like it, "because I feel like the small amount they give us is not enough to accumulate our energy that is needed to perform well in class and in after school athletics."
If you are wondering what changes students have noticed, Hana says, "I have noticed that the price has increased [from nearly $2 to $3 over the years] for the small amount of food they have given us. It's not balanced and I noticed that the food choices have become repetitive." For the 2014-15 school year, the USDA attempted to improve school food by introducing "smart snacks," which are foods that are sold a la carte in the cafeteria and vending machines that are now meeting nutrition standards. To give students B vitamins, minerals, and fiber the USDA is making sure that all grains offered for breakfast and lunch are specifically whole grain-rich.
Lunches have changed from having almost half a tray full of pasta or chicken nuggets to a fourth of a tray. Regular two pack Pop-Tarts have decreased to a whole grain pack of one Pop-Tart. And everyone's favorite, chocolate chip cookies, have been replaced with oatmeal cookies. Two chicken wraps in a box have decreased to one. Students have noticed tater tots appearing on rare occasions too, when they used to appear on their trays quite often. Goodbye delicious food!
Battle's athletes find that the new school lunches aren't giving them the energy they need. Junior Jerron Key was asked about how he felt about the smaller but healthier lunch portions and he says, "I hate them, because I play football… Three chicken strips isn't enough for me. And it's not going to do anything for you. They should give us triple the chicken strips." Junior Hana Canhasi also says, "I feel like they don't suit high school kids because we are just trying to eat good and get lots of energy out of it."
Even though the changes weren't exactly the best, Hana says, "I guess I like how it controls what we eat and how much we eat. They are giving us healthier alternatives and I respect that." Other comments from students about school lunch is "we need bigger trays," "I feel like it's a snack in the middle of the day," and last but not least, from a student: "the day I actually hear someone say they like school lunch, I'll be done."
So at the end of the day, what do students want? More delicious and tempting junk food, or the healthy alternative?