Battle Sprint Relay Teams take on the CHARGE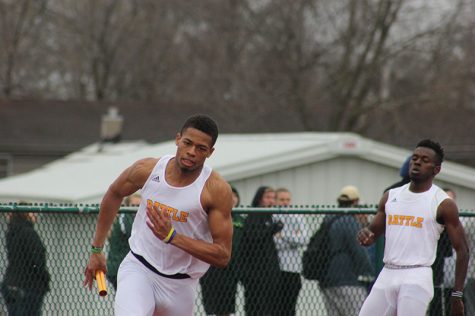 If there's one team that is most feared on the track, that is Battles 4×100 and 4×200 relay. The first meet of the season Hickman and Rock Bridge wasn't ready to face their fate when they saw Roger White a tall, lean machine who runs a 4.50 40 yard dash.
Omar Hayes, a former Spartan soccer player, wanted to run and he did last year making the state team with Roger White, finishing in 5th place.
Chyrome Thorpe is known for running like a flare down the straight. Thorpe is nearly impossible to catch if he gets ahead of you.
Joe Magee, former 400m champion last year during sectionals, was called up to run a 4×200, and track coach Cedrick Alvis said that he runs hard and puts in a huge effort.
DJ Overall, another tall runner with a long stride length in the sprint team that allows him to be fast enough to set a personal record. Unfortunately Overall didn't run the first meet at Hickman because of high jump that got in his way. Overall did run the second meet at Staley.
According to scouting reports both the 4×100 and 4×200 relay teams won a landslide race against Hickman, proving themselves the best of Columbia.
Coach Cedrick Alvis is one of the most prominent coaches out there and teaches his runners to stay focused by telling them to keep moving forward and to set goals for themselves.
"Made it to state and top eight in the state," says Alvis about the team's goals for this season. The current goal is that Alvis has set is to make it to districts and then carry that energy onto state.
"Their chances are high, looking at the time they ran, are just simply amazing," Alvis says about the chances of both teams to making it in state.
At the next varsity track meet the team is prepared for 4×100 and 4×200 sprint relay teams to give their best performances on the field.