"Mind of Mine" review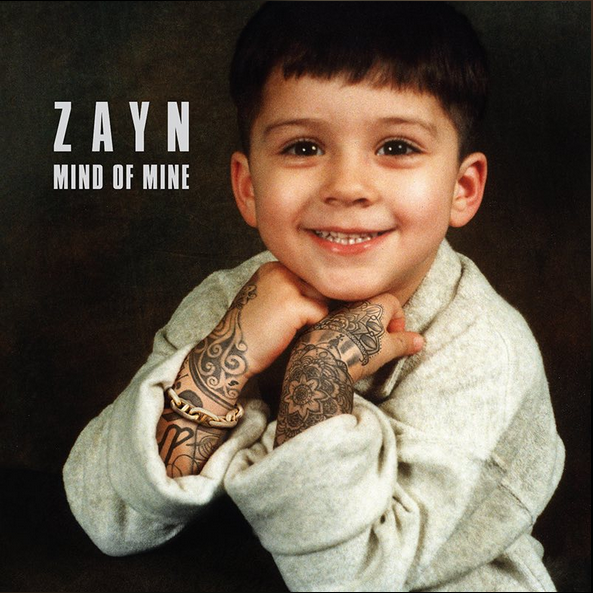 Zayn Malik recently released his first album as a solo artist. Upon his leave of his former band, I feel the time to listen to it, is now. Malik's new album "Mind of Mine" goes in to depth of his relationships in a techno, synthetic twist. "Mind of Mine" is zayn's showcase of his taste in music.
Zayn Malik has been the love of millions of teenagers since his former act in the successful boyband "One Direction." Malik was originally from Bradford, England in the United Kingdom, however lived in the X Factor home once placed into a group after his solo audition in the popular TV show. Eventually he decided to take a different route with his music when he left the band on the 25th of March. Right before the breakup Malik called off his engagement with his girlfriend at the time, Perrie Edwards. The break can be the reasoning behind some of his deeper songs, such as "rEaR vIeW."
"Mind of Mine" has a tendency to follow the trend of the futuristic hip hop sound with a mix of a minimalistic sound. Malik shows his minimalistic sides in his intermission song "fLoWer" and "fOoL fOr YoU." In nearly every song he completed then with his signature high notes, bringing us back to the hip hot sound. Each song was thoroughly written, and are very catchy with the repeating choruses and ideas. I really enjoyed listening to "iT's YoU" because of the chorus, and the sound Malik creates with feelings. In contrast, almost all of the songs re-used the synthetic beat, which made them sound somewhat the same. However the bounce back from pop music with One Direction, then into this completely separate genera was amazing, and the content in the songs were stellar. With any artist. There are songs he marks his songs explicit, they really are what they're listed, they speak largely on the idea of illegal activities, or contain large quantities of curse words.
To put this album in context, it has none, and the songs are pretty scattered. For being an album about mainly love and girls, it was hard to picture a complete end and beginning of a relationship, or any story in between the lines. The inclusion "MiNd of MiNdd" (the intro), later followed by "fLoWer" as an intermission create a great theater inspired look. By adding these to his album, I feel as if there is some tie between the songs, and it's more of a subconscious connection. In context with the genera, Malik stands out with how he spreads the alternative or techno genre, and splashes in tastes of things like rap and pop. "Mind of Mine" reminds me of The 1975's music, if you excluded the 80's vibe. "sHe" directly reminds me of something you would hear off of The 1975's album, both share a Kaleidoscope effect in the songs. "Mind of Mine" really follows a new path, and is hard to compare to others artists because of how different it is.
Considering every aspect of the album, "Mind of Mine" would get four out of five stars. I really enjoyed what was brought to the table, there were many new ideas and progressive sounds in his album. I had to bump the album down a star because it's repetitive within the beats and instruments used. Otherwise this album is spot on with its reaction of a relationship, and the stages of a relationship, in a pretty exposed way. Malik's new album really could be the next step for changing our radio's typical genera.