Ag Day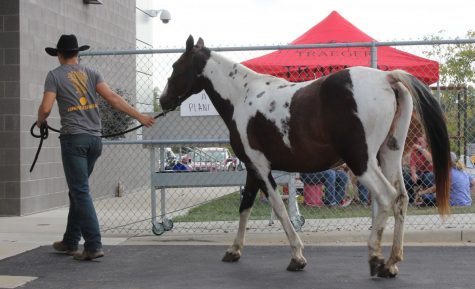 On October 2nd, FFA held its annual Agriculture Day where students and faculty can go and learn about the many aspects of agriculture and FFA. Many students were able to help talk about animals, make butter, express how to weld and many more, while others got the opportunity to experience everything. Ag Day is where students can see farm animals that they wouldn't see in their everyday life. College representatives also attended to recruit students who could potentially major in agriculture.
Junior Amara Reichert has been to Ag Day every year of her high school career. "My favorite part of Ag day is learning about agriculture and seeing all the different animals," Reichert said.
Although Reichert is not part of FFA, Ag Day is still something that she loves to experience every year. Reichert expressed, "Everyone should go to Ag day because there is so much to learn."
The Future Farmers of America (FFA) have run Ag Day for the past 6 years. According to the national FFA organization, "FFA is a dynamic youth organization that changes lives and prepares members for premier leadership, personal growth and career success through agricultural education".
A lot of students that work at Ag Day typically have an agriculture background, but for sophomore Mya White that isn't the case. Although White did not grow up into agriculture, she still is an active member in FFA. "Last year I brought my pet rabbit, and this year I helped run Ag Day," White said. "Being around all the animals and meeting new people is fun at Ag Day." White has only been a part of Ag Day for 2 years, but she is excited to help out for more years to come.
Another student that was involved in this year's Ag Day has been a part of it for four years. Senior Isaiah DeShon has brought his horse to Ag day every year, and has also brought his four chickens for two years. DeShon expressed, "Not only is FFA a good way to learn about leadership, but it's also a day for those without agricultural backgrounds."
This was DeShon's last Ag Day, but he is looking forward to coming back in the future. "It's a really good opportunity for kids to be around agriculture that don't usually have the chance to be around those things in their personal life," DeShon said.
Ag Day welcomes everyone, even if they don't take agriculture classes or are in FFA.