Me myself and…
This marching band season is officially underway and the band has been preparing for their upcoming show which be performed during home games in competitions. The show's name is titled "Me myself and…"and the show's theme is how phones disconnect people from the real world and trying to change that habit. 
The show plays "All by myself" by Eric Carmen to show isolation, then "Man in the Mirror" by Micheal Jackson to show the willingness to change. 
Cynthia Ricciotti, mellophonist  junior, said, "I think that it is something that everyone will enjoy and will place well in competitions." Ricciotti also explained her opinions on the show, "It fits in well with society today because we're all obsessed with technology in one way or another." 
The marching band partnered with the Lange and Oakland Middle School bands for the football game against Harrisonville on Friday. 
Freshman marching band member Reagan Laing said, "I'm nervous to perform in front of people. I 'm thinking these thoughts like am I going to miss my dot, or miss a visual, but I'm starting to get used to it."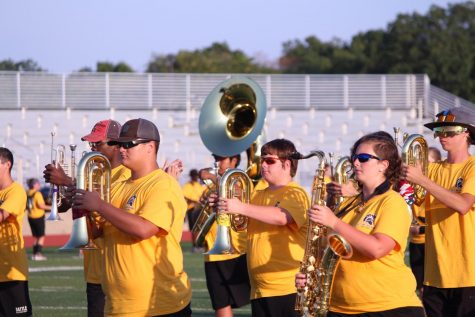 The band is expected to have the show completed and ready to perform it at the Lafayette High School band competition on September 28.