Battle falls short in Norm Stewart Classic
Battle suffers heartbreaking loss to Raytown South, 60-59
On Saturday night the boy's basketball team played in front of a rowdy crowd at Mizzou Arena against Raytown South. This was the first time the Norm Stewart Classic was held at Mizzou Arena, as it was formerly held at Columbia College.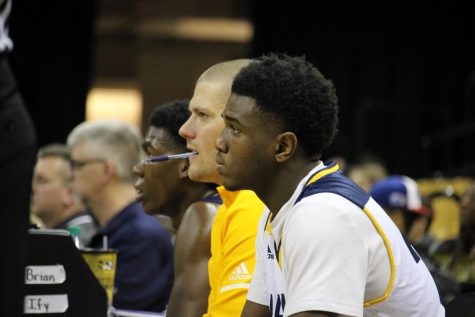 The Norm Stewart Classic lets teams see how they shape up against evenly matched opponents early in the season. The games are played to raise money for the Coaches vs Cancer Foun
dation.
Battle's opponent Raytown South has been a powerhouse in the Kansas City area for the past decade and brings full-court pressure nearly all game. Raytown South continued that trend and gave the Spartans a fit on the offensive side of the ball. The game was a constant back and forth affair.
Battle struggled to find its shot early in the game due to Raytown South's ferocious defense, but in the second half, Battle was able to find the bottom of the net with some consistency. Senior guard Maricus Grant stepped up late in the game with his speed in transition, as well as his ability to find the open man. Senior guard Zh'Vaughn Ward also had a few crucial baskets in the fourth quarter. With the game at 60-59 with 14 seconds to go with Raytown South in the lead, the Spartans had one last opportunity to win the game.
Unfortunately, the Spartans were not able to convert and lost the game in heartbreaking fashion. The game did not end without its fair share of controversy though. Senior forward Abdi Ibrahim took the last shot of the game as it was a deep mid-range from about 15 feet out. As Ibrahim released the ball and began to come back to the ground, it appeared a Raytown South defender had hit him in the gut and severely altered the shot. This sent Mizzou Arena into a frenzy with fans screaming for a foul, but no fouls were called and Raytown South emerged victorious 60-59. 
So what can fans expect from the Spartans this season? The first thing to expect is the Spartans will play fast. Any chance the Spartans get, they will look to push the ball up the floor on a fastbreak and get to the rim quickly. Also, expect a lot of three-point attempts. The team will live and die from the perimeter and due to having lots of guards, many shots will be hoisted beyond the arc. Expect the Spartans to play tough defense and expect them to press past half court nearly every possession. Considering how good Raytown South is, I wouldn't worry about the team just yet.