McCartney III
Newest Paul McCartney Album that saved 2020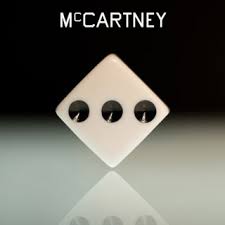 Dec 18th was the release of Paul McCartney's album McCartney III. McCartney's album is full of homemade solo records, in the mold of his acoustic 1970 debut and his 1980 synth-pop oddity McCartney II. McCartney wrote, played and produced the whole album himself, with plenty of his unique, folksy style.
Paul McCartney is probably one of the most well-known rock legends across the world; throughout the 1960's he made his name as the bassist, lyricist, and vocalist for The Beatles. Even after all those years, McCartney's new album doesn't sweat about being a legend, a genius, or a Beatle, just a family man laying back during quarantine, doing what he loves most. 
Opening the album with "Long Tailed Winter Bird" is essentially five minutes of McCartney fingerpicking a guitar over a basic rock foundation as he chimes "Do you miss me?" from time to time throughout the song. The repetitive chords along with the heavy layered reverb on the vocals, almost put you in a magical trance. Which he then immediately follows with the fuller "Find My Way", which sounds like indie-rock filtered through his more traditional instincts. 
McCartney III doesn't stick to just one style, each track jumps around different sounds and never settles on one theme or groove. There are love songs, throwback rockers and one-man call-and-response goofs like "Lavatory Lil."
McCartney even got to work out some of his aggression on "Slidin," a "Helter Skelter"- type rocker that starts with a simple riff and eventually pulls everything else, including a tough McCartney vocal. The way the instruments tie together making a rough yet smooth sound pleasurable to the ear impressed me and caught me off guard once the song began. 
 Which then moves straight into "The Kiss Of Venus," the album's airiest track; an acoustic, bucolic moment that provides another view of his downtime. This song is probably one of my favorites because of Paul's soft vocals. Compared to the other songs on the album this is a lot more smoother and the chords and fingerpicking reminds me of some of his early work with The Beatles. 
The same beginning riff from " Long Tailed Winter Bird" repeats itself in the albums closer, "Winter Bird -When Winter Comes." The song was originally recorded in 1992 with George Martin at the Mixing Desk and recorded at the same time as 'Calico Skies' and 'Great Day'; it was then unearthed during the research for Paul's 2020 'Flaming Pie' reissue.       
Considering the song too good to be released as a bonus track, Paul decided to make a short film to accompany it. As he recorded the short introductory piece of music for the film, the world went into lockdown due to the pandemic. McCartney continued working in the studio and accidentally finished work on 'McCartney III'. 
McCartney III in my opinion has to be one of the best albums released in 2020, or the album that saved the year. Paul's awe-inspiring talent still strikes through after all these years. With The Beatles and during his solo career with The Wings, he's always been capable of putting together works of art. This album is a perfect example of Paul's amazing gift, despite being 78.