A Talk With Mataka Askari
Q&A with Mataka Akari via Zoom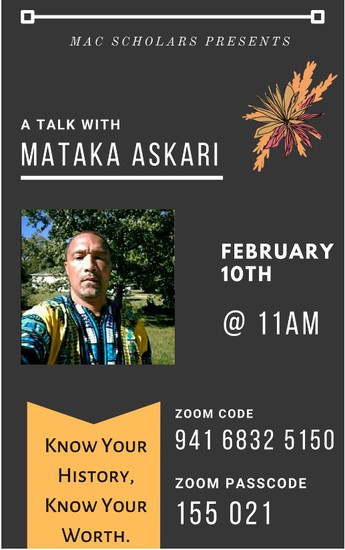 Battle High School Minority Achievement Committee (MAC) Scholars is kicking off Black History Month next Wednesday, Feb, 10th at 11:00 am, with an enlightening conversation and a Q&A with Mataka Askari via zoom. The presentation is entitled "Know Your History, Know Your Worth". 
Askari is a Certified Peer Specialist who works in the field of re-entry. He is an avid student and promoter of African History as an instrument for healing and restoration. Askaria will go in depth about who black people really are, and how black people were not just slaves as history tends to show them.
"He is very passionate about the history of African American people, especially about who they were in the past. He wants to make sure that the world knows black people were not just slaves as sometimes depicted" MAC Scholars Sponsor, Kathy Lewis said. 
Topics that are being discussed during the zoom are African American history beyond what we have been taught as well as important inventions that were created by African Americans that were never credited or stolen by slave owners or white people. 
"This month is important because it's the one month in a year African Americans can all celebrate history and all of the leaders before us who gave their lives and fought for change" Senior, Rhondell Tipton says. 
This video chat is something you don't want to miss. All are welcome to join, any race, sex, etc. lets celebrate and learn together! Be sure to keep track of all your questions so you can ask Mataka at the end of the event. Zoom information can be found at the bottom of the event poster.