Catch Me If You Can
This year's fall musical is ready for student auditions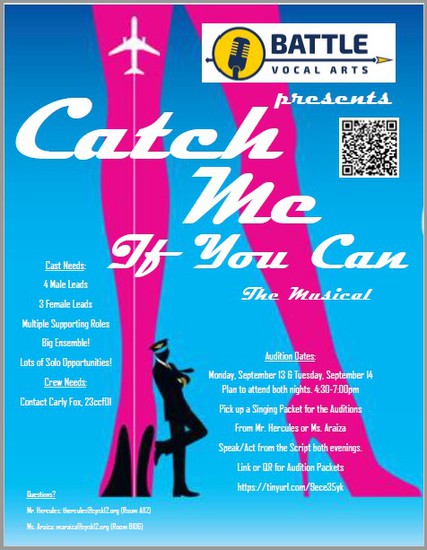 Battle Vocal Arts is hosting the annual fall musical Catch Me If You Can! Audition dates are set for Mon. Sept. 13 and Tues. Sept. 14 in the choir room, A112. 
The musical Catch Me If You Can! is the true story of a young man named Frank who runs away from home due to family strife, and makes a fortune forging checks and faking identities as a pilot, doctor, and lawyer. The FBI becomes aware of his cons, and is hot on his tail trying to uncover his true identity for the bulk of the musical.
 The story this musical is based off of is the same story that the 2002 movie Catch Me If You Can! (starring Leo DiCaprio and Tom Hanks) is based on. Along the way Frank finds true love, but how can he keep it when she doesn't even know his real name?
While the story takes place in the 1960's, this show is considered a modern musical comedy. There is some mild adult content, making the show more appropriate for a middle school audience and up.
  Catch Me If You Can! is sponsored by the Battle Vocal Arts program, led by director . Tim Hercules and Battle Theatre, directed by Myriah Araiza. This musical is considered "all-school" meaning anyone is allowed to audition for a role, even if they aren't in choir or a theatre class.
Drama teacher Myriah Araiza expresses her excitement for this year's fall musical. 
"I know that Mr. Hercules and I are very excited for the opportunity to put on a full-length musical this year," Araiza mentioned. 
Auditions are Mon. Sept. 13 and Tues. Sept. 14 from 4:30pm-7:00pm. Students interested in auditioning should see Hercules or Araiza for music, and plan on attending both audition days. There are four male leads and three female leads with a large ensemble.  Ensemble members will have the opportunity to sing small solos or fill small speaking roles.