Walking Out of Darkness
Students Raise Awareness for Suicide Prevention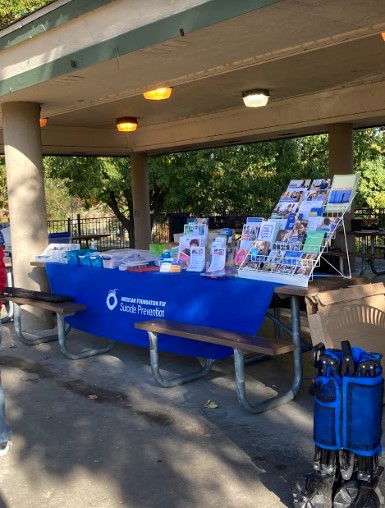 On Sunday, Oct. 16, Columbia held the Out of Darkness Walk in partnership with the American Foundation for Suicide Prevention (AFSP). This year, BHS's club Youth Kindness Ambassadors (YKA) created a team for the event and volunteered to help the event run smoothly.
     According to AFSP, there were 1.20 million suicide attempts in 2020 in the U.S., with an average of 130 suicides per day, which shows why suicide prevention is needed now more than ever. Every year since 2004, over 400 communities across all 50 states hold Out of Darkness Walks to raise awareness and money for suicide prevention, and every year Columbia holds the walk in the fall.
     Allison Harris, senior and president of YKA, said, "My friends, family, and I have all struggled with suicidal thoughts and other mental health issues, so to see a cause dedicated to destigmatizing and supporting all of those who struggle brings me hope."
     This year Columbia's walk had 532 participants and 47 teams that helped raise over $31,800 which will go towards suicide prevention and awareness including providing education resources to local schools, training a new Survivor of Suicide Loss support group facilitator, and even funding research. 
     "[I raised money through] primarily Facebook and Instagram," Izzi Dupree, senior, who raised $175 for the cause, said.
      Muriel Williams Battle High School's team raised $515 this year and had over 15 members. Many of these members also volunteered at the event, doing everything from putting up signs to directing traffic. 
     "I volunteered, I put up signs and made sure the volunteers were where they belonged," Izzi Dupree said. 
     Doors opened for the event at 11 a.m. but volunteers were there as early as 8 a.m. to help set up chairs. From 11-1:30 guests and volunteers could register, go to the kids' Gizmo Corner, enter raffles, purchase AFSP merchandise, enjoy live entertainment, and see the shoe display, which shows every live taken by suicide in 2020 in our community. Participants of the walk are welcome to bring shoes of loved ones who have been lost to suicide as well. This year was the first yea since COVID that the shoes were put out on display and open to the public. 
      At 1:30pm, the Opening Ceremony began, and a list of names of those lost were said before the walk began. The walk started at 2:30pm and ended at 4:00pm, and the course was around Stephen's Lake Park. 
      Many activities were available to share the impact suicide has had on each participant, such as the free beads, with each color representing a different impact, as well as the sand ceremony and the memorial wall. 
      Just being around people who have also struggled with mental health comforts many and helps people to not feel alone.
     "I enjoyed seeing all the different kinds of people that were there," Dupree said. 
      The event is overall empowering and drives many people to continue helping others.
     "Seeing all the different causes and situations that participants walk for [was my favorite part]," Harris said. 
      If you or a loved one is struggling with thoughts of self harm or suicide, don't be afraid to get help. Please call 988 or 1-800-273-8255 or text TALK to 741-741.