Back to School Bash
Students and staff celebrate the first football game
Battle High School football fans started out the school year strong on Friday, August 26th with the Back to School Bash. Student council put on the event to celebrate the 10th anniversary of the school opening.
According to Charlie Hazelrigg the goal of the Bash was, "to bring about more school spirit and to get more people to come out to games and events".
When student council attended the Central Missouri Student Council Conference, they were inspired by Jefferson City High School for the idea of the Back to School Bash. When hearing that we were interested, Jefferson City sent resources to help out.
"Jefferson City has a back to school bash, and they made it sound like it was the most fun we've never had," Jill Villasana, sponsor of Battle Student Council, commented.
The event kicked off at 6 o'clock with a tailgate dinner on the tennis courts. There you could find many tables with students of all grades enjoying hot dogs, chips, and cookies. Loud music played as students walked around, ate, and socialized.
Because it was your ticket to enter, you could see students wearing their gray Back to School Bash t-shirts, designed by Charlie Hazelrigg and Ryan Johnson at Missouri Cotton Exchange. The football game had a "beach" theme, so many students complimented those shirts with Hawaiian leis, sunglasses, and bucket hats.
As the tailgate came to an end, students made their way to the stadium to watch the football team Play Park Hill in the first game of the season.
After the game, students walked down to the baseball field to bring the night to a close with a party. Student council provided bounce houses, yard games, and music. as well as cookies and soda.
Through issues with the electricity, teachers and students behind the scenes worked tirelessly to still make the party a hit. Students raced, flipped around, played games, and when the bounce houses were inflated, there was a line all the way to the fence.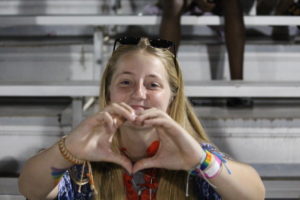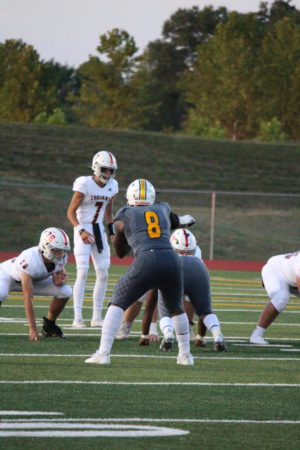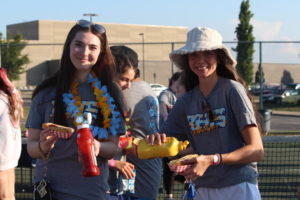 Anna Ferguson, student council public relations, said, "Although we had some technical difficulties, we pushed through and the students who participated had a good time kicking off their school year with a party".
When asked what she would do differently next year, Jill Villasana answered "I hope that we would have more staff to secure the venue, we should get more generators for the inflatables and I would have it planned by the end of May."
Before everyone left, ninety-two names were pulled from a raffle to win prizes. Various businesses donated money and gift cards for the Bash. Many of these businesses were printed on the back of the event shirts. Just some of the numerous prizes included gift cards or passes to Andy's Frozen Custard, Starbucks, Shakespeare Pizza, and True/ False Film festival.