Keeping the Beat Alive
Visiting artists teach students about the legacy of hip-hop
Classes from all three CPS high schools celebrated hip-hop's 50th anniversary on Nov. 4 in the Battle media center through a collaborative songwriting workshop.
The workshop centered around the knowledge provided by three independent artists. Brooklyn rapper Maassai and New Jersey producer JWords of the duo H31R along with hip-hop artist R.A.P. Ferreira gave students an opportunity to learn about rap culture and purpose.
Hip-hop originated as a lesser known genre specifically for and by the black community. Speaking on the fight for racial equality, protesting inequitable socio-economic conditions, and storytelling, through music, hip-hop artists have historically used their voices for change.
The artists kicked off the workshop with live performances, followed by a question and answer (Q&A) session, and ending with a 'raptivism' workshop for the students to write prompted verses and pair them with an original beat.
During the Q&A session, the artists were asked about their inspiration to make music. R.A.P. Ferreira said, "I want to be making art right now because I'm not hearing or experiencing enough art that is happening because it has to."
The artists described hip-hop as a medium to empower voices calling for change. "Somebody has to start something so other people can follow," said JWords.
They also emphasized the importance of hip-hop to the black community. "One of the most hip-hop things you can do is to give honor to those who came before us," said Maassai. "It's important to me to keep what's ours, ours," said R.A.P. Ferreira.
They also encouraged aspiring musicians to look past mainstream or 'popular' music to find their own voice, not just specifically through rap, but whatever feels right. R.A.P Ferreira explained that anyone can make music with a cheap computer, headphones, and a passion for making art.
Guided by H31R, participants were taught how to use a beat generating website on their phones. They were then given a random word to use in their prompted verse describing a place that feels like home. Snaps and claps were awarded to students as many of them shared their beats and verses with the group. "You can take literally anything from everyday life and make it into music," said Hickman senior, Harper Demoss.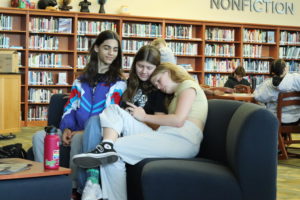 The Battle workshop was organized by Matt Crook with The Columbia Experimental music Festival and Jordan Smith with Darkroom Records. "I personally really liked the songwriting aspect, the students really leaned into that and challenged themselves. I felt like students getting up and sharing what art they were coming up with made it way more welcoming and collaborative," Smith said.