Students on early NBA season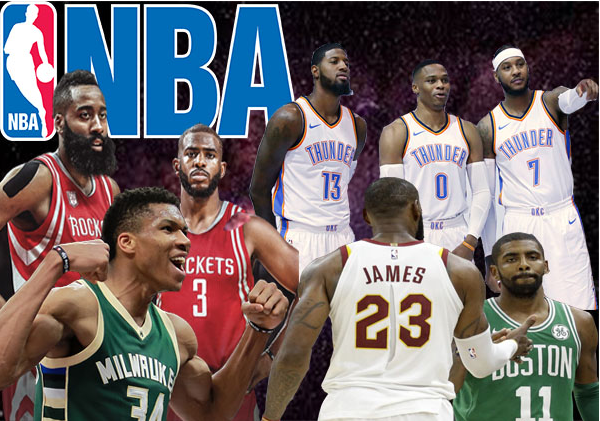 Two weeks into the young NBA season, ten games have been played out of eighty-two. There are many things to watch as the season moves on from story lines like how will LeBron and the Cavalier's new player selection do with an almost complete different lineup with four new players. Among the four new players, the team lost star Guard, Kyrie Irving. To the Oklahoma City Thunder star trio of Russell Westbrook, Paul George, and Carmelo Anthony inevitably losing in the 1st round of the playoffs. Although the game was lost, point guard, Russell Westbrook's season is looking promising after coming off a historic MVP season, but with the addition of two all-stars George and Anthony fans are left to wonder how will the win success fair now? The Houston Rockets acquired a new player, Chris Paul from Los Angeles to help MVP runner up James Harden, who's coming off an impressive individual season, leading the Rockets to 55 wins. To the new young rookies entering the league such as Lonzo Ball, Jayson Tatum, and Markelle Fultz all with high expectations how will their impacts affect their teams and the league?
Those four storylines are probably the biggest but there are a lot more interesting stories to watch play out this season. Sophomore, NBA fan, Blake Darr comments on what he finds interesting and curious to watch for. Darr says, " I'm curious to watch Giannis Antetokounmpo enter his prime and to see if he can win the Most Valuable Player award." Antetokounmpo's last season won him the Most Improved Player award, taking a big step in his career putting up 22 points a game last season and now averaging 31 points and 10 rebounds on the young season. Darr continues, "I also want to watch Ben Simmons' first season and if he can accomplish Rookie Of the Year in Philadelphia". Ben Simmons will be playing his first season after suffering an injury that had him out all last season, Simmons was the first pick of the 2016 draft and by many was called the closest thing to LeBron James.
Another NBA fan adds on to the interest of the upcoming season. Sophomore, Zach Hertzing says, "I find it interesting because more players are on different teams via trades and free agency, so the competition got better among teams like how will the Celtics and the Cavaliers play against each other or how Paul George will help Oklahoma City against Golden State and Houston."
Before this season there were only three teams that had two or more All-Star players, but after the off season there now there are seven teams, which should only lead to more competitiveness in the league. However this season, Vegas odds for the 2018 Finals have Golden State at 5/8, Cleveland at 5/1, Houston at 10/1 and Boston at 14/1.The Golden State Warriors are coming off a 2017 Finals win against Cleveland not losing any players but adding a few pieces to already help their talented lineup that has four all-stars looking to win back to back championships.
Junior, NBA fan, Robert Ruth commented on his favorites for the season, Ruth explains, " I like the Warriors because realistically speaking they have the best bench and starting five in the league but the underdog or surprising team could be the Bucks with Antetokounmpo if he can keep playing good quality basketball."
With all this said there's a lot of stories and teams to watch this NBA season it's fair to say fans are ready to watch this play out!