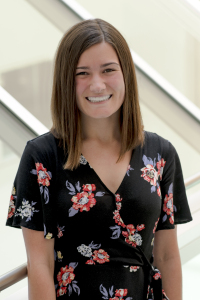 Kaitlyn Bailey is a senior at Battle High School. For the three years, Kaitlyn has been the editor-in-chief for The Spearhead and The Shield. She is also a reporter for CPS360, her district's broadcast TV program.
In addition to journalism, she takes multiple honors and AP classes. She is in multiple clubs and sports, and serves as the historian of National Honors Society and the senior class PR. She also served as the editor-in-chief at ALA Missouri Girls State in 2019.
She looks forward to attending the University of Missouri in the future to study journalism, specifically broadcast. She hopes to be a political beat reporter in Washington in the future.
 You can read more of her writings on her website.
Kaitlyn Bailey, Editor
Mar 13, 2020

Coronavirus impacts broadcasting students trip, forced to return

(Story/Media)

Feb 09, 2020

Deadline to vote in MO presidential primary election approaches

(Story)

Jan 15, 2020

Top news stories from 2019

(Story)

Jan 09, 2020

Houses approves War Powers resolution amid tensions with Iran

(Story)

Dec 10, 2019

Education First: ACT Scores

(Story)

Dec 02, 2019

Countdown to the holidays calendar

(Story)

Nov 19, 2019

Goodwill Excel Center gives adult students a second chance at earning a high school diploma

(Story)

Nov 14, 2019

Preferred pronouns in public schools

(Story)

Nov 04, 2019

Seniors Rally Together at Annual Senior Tailgate

(Story)

Oct 27, 2019
Oct 27, 2019

The Achievement Gap Crisis: Opportunities Decrease for Poor Children

(Story)

Oct 25, 2019

CPS to Implement No-Backpack Policy

(Story)

Oct 01, 2019

Students experience teaching in elementary classrooms

(Story)

Sep 30, 2019

FASFA to Come Out Oct. 1

(Story)

Sep 18, 2019

Darkroom Records Hosts First Ever 'Busk 4 Blues' Competition

(Story)

Sep 10, 2019

Annual Activities Fair to Happen Wednesday

(Story)

May 02, 2019

Vaulters Excel to New Heights

(Story)

Apr 26, 2019

Select Students Receive Outstanding Student Award

(Story)

Dec 04, 2018

Students Donate to Boys and Girls Club

(Story)

Nov 12, 2018

How Midterm Elections Could Impact The Youth

(Story)

Oct 31, 2018

Students Gather for the Annual Zombie Defense League

(Story)

Oct 29, 2018

Fake News vs. Real News: How to Tell the Difference

(Story)

Oct 17, 2018

Students Attend Annual College Fair

(Story)

Sep 27, 2018
Sep 27, 2018
Sep 27, 2018